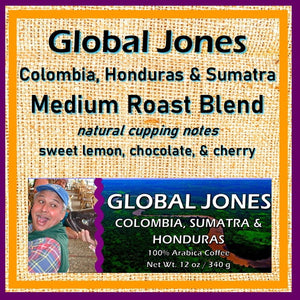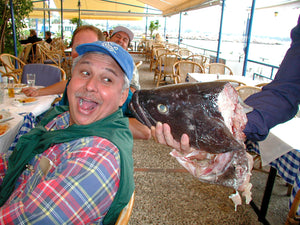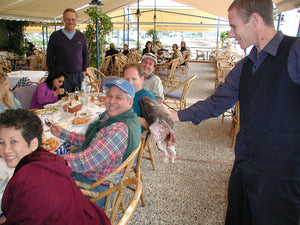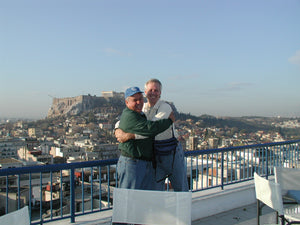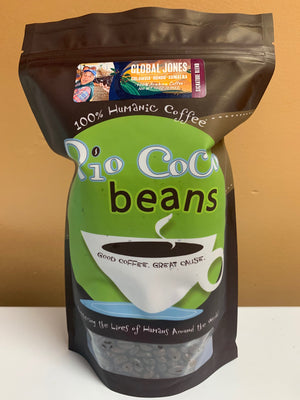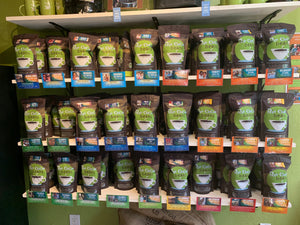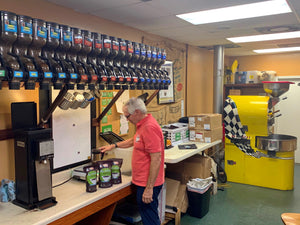 Product image 1

Product image 2

Product image 3

Product image 4

Product image 5

Product image 6

Product image 7

Cupping Notes: Sweet Lemon, Chocolate, Cherry
I met Hal Jones in 1983 when he came to Maui to speak at our church, Hope chapel. He and our pastor Craig Englert had started Campus Crusade in Hawaii together, and were very dear friends. He had been a missionary for many years living in the Middle East and serving in Beirut Lebanon during the civil war. He told me of the time that he and a friend were driving down a street when a mortar exploded behind his car. In a few moments one landed in front. Hal recognized the "bracketing" and knew that the next one would be right on top of him. He was right! As he sped away, the mortar exploded right on that spot. Eventually Hal returned to Hawaii to raise his family, and ran for office, becoming a Hawaii State Representative, and started a real estate business.
I was invited to Hal's church to speak when I returned from my first year and a half working with Miskito Indian refugees in Honduras. Hal was very "simpatico" with the Miskito Indian refugee situation. He invited me out to lunch after church, and we drove in his very nice Mercedes to one of his favorite restaurants. As I sat in the front seat of this luxury vehicle  (I estimated $80,00), I asked Hal:
"Hey, I heard that you used to me a missionary."
"Yes, I served with Campus Crusade in the Middle East."
Without too much thought other than the extreme poverty of the Miskito refugees that I was living with, I blurted out:
"So how come you are driving a car like this?"
Hal was silent for a few moments, and finally said, "It's for my real estate business."
He still took me to lunch and picked up the tab.
When Laura and I married, we visited Hal at this office in Honolulu and had a time of sharing with him. Laura asked him to tell us one thing that he did that kept him on track.
"Every morning I start off reading a chapter from the Book of Proverbs. Since there are 31 chapters, there is one for every day. That is one of my habits that has served me well."
I took that one to heart, and since then, I have followed in Hal's footsteps, daily reading and meditating on the Proverbs chapter of the day. That discipline has served me well also.
Eventually Hal sold that car, got out of the real estate business, and returned working  with a relief organization in the Middle East, while living outside Paris France.
In 1997, we went took our three Miskito leaders to Israel along with Hal's friends Craig and Kathy Englert. Hal took time out of his busy schedule, and met us in Jerusalem, and spent a few days introducing us to his Palestinian friends. It was quite an experience, especially walking around Rachel's Tomb in Bethlehem late at night looking for the home of Hal's friends. In 1999, on our way back to the U.S after at few months in Israel, we visited Hal and his wife Lana at the home in France. The next year, 2001,  Hal & Lana joined a study tour to Greece with Dr Randy Smith.

Photo:  Enjoying coffee on the roof of the Astor Hotel in Athens- from Left to right: Dr. Randy Smith, Jason Spence (Java Jake), Michael Bagby, Hal Jones, and Craig Englert 
It was also during that trip that Hal ordered fish at an Athenian restaurant, asking the waiter to bring out the head of the fish to prove that he was being served fish. We all thought it was a joke, but in a few moments, Hal was staring into the face of a severed fish head. And that plate of fish was delicious!
Hal and Lana continued their relief work which quick expanded into disaster relief training working with the United Nations, and Transformational Community Development, getting local economies started for sustained economic growth.

It was sometime in the 2000's when we were on Maui that Craig, Laura & I flew to the Big Island of Hawaii to visit Hal and Lana at their home in Volcano. Hal took us to see Kilauea, the volcanic eruption down along the Puna coast, and the red lava river cascading into the Pacific Ocean. We went late in the afternoon, so that we could see the glowing red river of lava in the dark. I asked Hal if it ever rained on that side, and he said "Hardly ever." I had just purchased a new Sony video camera. Still, I took along my rain jacket.
After hiking about a mile from the parking lot across freshly hardened lava on a path marked by orange traffic cones, we finally arrived at the observation point on the coast. The plume of steam rising from the ocean where the lava waterfall landed was truly spectacular, rising up 5000 feet and drifting off the coast. I took many photos with my Olympus OM-4T still camera, as well as lots of video. Since it was getting dark, Laura and Hal's daughter Noe decided to begin walking back to the parking lot. It was then that a small cloud began drifting down the coast. I a matter of minutes the wind shifted, and that gigantic plume of sulfuric steam suddenly changed directions, and engulfed 17 of us who were standing at the end of the trail. The cloud was so thick that we literally could not see our hand in front of us. It was then that it began raining hard.
The Park Ranger called us all together, and had us number off, and then every five minutes we would have to count off so he knew that no one had wandered off across that freshly hardened lava (with molten lava flowing right under it). It seemed that Hal and Craig were confused who was "Number 6". "That's you Craig!" "No Hal that's you." Back and forth they went. Meanwhile I was holding my new Sony video camera under my rain jacket, hopping that my Backpack was keeping my Olympus camera dry. It was then that Hal meekly said, "Number 6".
 After about 30 minutes of rain and breathing sulfuric steam, the wind shifted and suddenly we could see the orange traffic cone 25 feet away. We all ran over there and waited. Soon we could see the next one, and again like a 34 legged crab, we all moved as one body to that one. Finally the wind shifted more and we could see more cones, which led us through the twilight to the parking lot. There Laura and Noe were standing by the car, wondering where we had been. I took off my backpack, opened the zipper, and found my Olympus sitting in a small pool of water. I dried off my new Sony and turned the camera on. The power light came on, the lens flickered, and then everything got dark. A week later when I took the camera to the Sony repair shop near Laura's parent's house in Honolulu, the tech examined the camera and asked me where I had been.
"Why do you ask?"
"Because this band new circuit board is severely corroded."
"Standing inside a sulfuric steam cloud on the Big Island."
"Kilauea?"
"Yea, we got caught in shifting winds and rain."
After we got back to Hal's house that night, we were assigned to stay in the room of their daughter Kehau, who was attending college on Oahu. The room was filled with photos of Kehau and her family. The next morning as we were cooking breakfast with Lana, Laura told me that she strangely felt that we like were with family- real family.
That proved to be a prophetic word, as we discovered when we came back from Honduras the following year that Laura's brother Todd was dating Kehau! They married and now have four children. Since then we have spent some Thanksgivings and Christmases with Hal & Lana at the Uyeda-Jones home in Orlando.
Back to the Mercedes…….
In 2008 we were on Maui, and our friend Kandi Obrien asked us if we needed a car. We did. She had an older Mercedes sedan, that was a bit of a clunker, burned a little oil, but was still good transportation. We greatly accepted.
It was after a few days of driving that old brown Mercedes that I got a call from Craig.
"Hal & Lana are coming to Maui today. Can you pick them up at the airport?"
Of course I could, and Craig gave me the time. I went the to airport, and I saw Hal standing at the curb by the baggage area. As I pulled up and Hal saw me, he smiled and dropped to his knees on the sidewalk. With hands and face lifted into the air, he began praising God loudly.  I thought "What 's the big deal? I'm just a ride picking him up to take him to Kihei."
But it wasn't just any ride.
"Hal get up and get your bags into the car." I shouted.
"No Bagby! I have to thank God right now. I have been praying for years that you would somehow give me a ride in YOUR Mercedes".
That's when I started laughing, and we laughed all the way to Kihel, and I have to say many times in the following years after that when Hal & I were together with our families…he loved to tell THAT story. 
Right before this past Thanksgiving, Hal took what we all thought was a sudden and early flight into eternity, suffering a heart attack at this home on the Big Island. In his life Hal traveled through and lived in very dangerous places where war and civil unrest was present. Often. Those of us who worked with him and knew him as family all have our stories of Hal. He was one who definitely changed his world, in an astounding manner.