Echoes Into Eternity Book (Volume 1)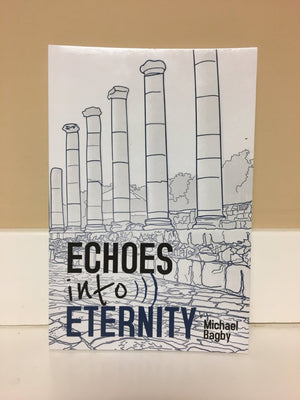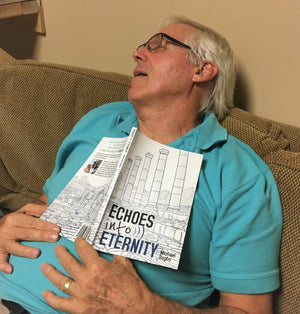 Product image 1

Product image 2

Product image 3

What is your life all about? What will really count at the end of your days? What are the things that happen in your life that send Echoes Into Eternity?
Join one who was searching for the true meaning of life in a study of the one thing that truly does send Echoes Into Eternity. Michael Bagby was a historian, Navy Fighter Pilot, ski bum in Colorado, and finally an ice cream scooper in Lahaina Maui when his cousin told him about having a personal relationship with Jesus Christ. After having an encounter with God, Michael became a follower of Jesus and spent the next three years on Maui, studying the Bible and getting involved in the ministry of Hope Chapel Maui.
In 1984 Michael traveled to the Rio Coco Honduras where he along with others began a relief project to Miskito Indian refugees from the ongoing war in Nicaragua. They began primary schools in the refugee villages in 1986, and when the war ended in 1991 crossed over to the Nicaraguan side of the Rio Coco and became the community school in the villages along the lower Coco River. Currently the schools teach grades K thru 12 to over 1200 students in seven communities. 1n 1997, Michael took three of his Miskito leaders to Israel for a study tour and course on Biblical culture. For the next ten years, Michael and his family traveled to Israel several times, living in Jerusalem, where they help start a relief ministry during the 2000 Intifada. In 2004, Michael and his wife Laura started Rio Coco Beans, a coffee importing/roasting company as a means to make money for the school project in Nicaragua. In 2011 this led to the opening of the Rio Coco Cafe on the western Caribbean island of Utila, just off the north coast of Honduras. In December of that year, they opened the Rio Coco Cafe in Vero Beach Florida. Both cafes serve as an 'open door' for friendship relationships and community building.
Michael and Laura have been involved in the discipleship process in their own lives, with their Miskito Indian teachers and students, with many who have joined them on their study tours to Israel, Greece, Turkey, and Italy with Dr. Randall Smith, and with many who walk through the doors of the Rio Coco Cafes. Echoes Into Eternity draws from their experiences working with individuals from Europe, Israel, Central America, Australia, and America along with a cultural understanding of Biblical principles learned through their travels to the Biblical sites. In this study, Michael shares many lessons from the perspective of his years as a Navy and missionary pilot, as well as his time serving coffee to the guests of the Rio Coco Cafes.
Hopefully Echoes Into Eternity will inspire you to begin sending even more of your own echoes into eternity!